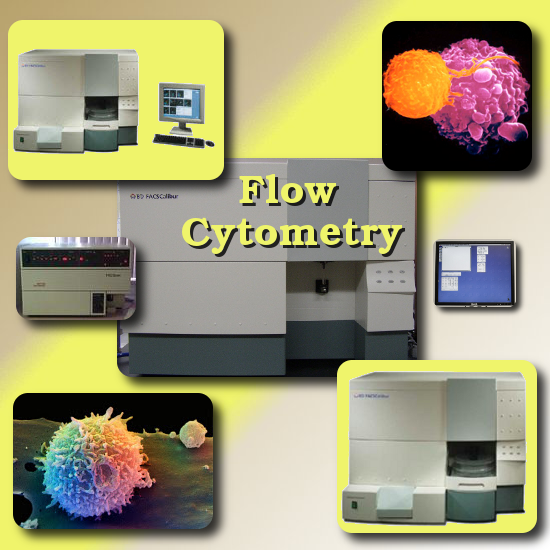 Flow cytometry is a personal passion of mine. To the best of my knowledge we are the only privately owned veterinary clinic to have such a facility in the state of Michigan. This technique and results are still being studied in animal  research and are currently being evaluated for applications in veterinary medicine. Flow cytometry is currently the main stay in human medicine for the detection and evaluation of many diseases. In veterinary medicine the uses are currently limited. Thus there is an interest in expanding on this new cutting edge technology. Anybody interested in contributing or is interested in our facility is welcome to contact me.
How it is done:
Cells of interest are labeled (e.g. with flourescent markers) and suspended in solution. The cells are forced out of a small nozzle in a liquid jet stream. A beam of laser light of a single frequency is directed onto the stream. Each suspended particle passing through the beam scatters the light in some way.  Several detectors can pick up the scattered lights and the fluctuations in brightness at each detector is analyzed. The data from the light scattering can be plotted on a graph to visualize different cell populations in the sample.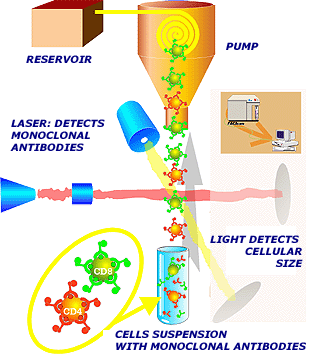 How it works:
The detectors can measure various paramaters of light scattered by a single cell. One in line with the light beam to measure forward scatter (FSC) and several perpendicular to the beam can measure side scatter (SSC). There may also be one or more fluorescent detectors to measure emitted light from the fluorescently-labelled cells. By analyzing fluctuations in brightness at each detector, it is possible to deduce various facts about the physical and chemical structure of each individual particle.For instance, FSC correlates with the cell volume and SSC depends on the inner complexity of the particle (i.e. shape of the nucleus, the amount and type of cytoplasmic granules or the membrane roughness). Some of the commonly measured parameters are:
volume and morphological complexity of cells
DNA and RNA
chromosome analysis and sorting (library construction, chromosome paint)
proteins
cell surface antigens (also known as CD markers)
and many more!
We are fortunate to have three machines. (FACS-fluorescence-activated cell sorters.)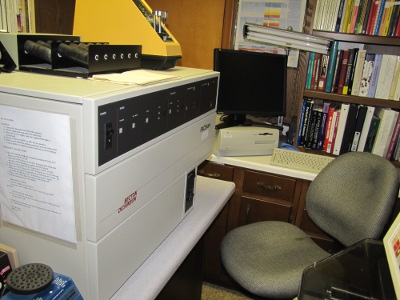 Facscan station 1 (3 color)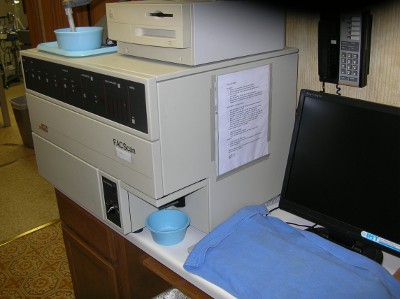 Facscan station 2 (3 color)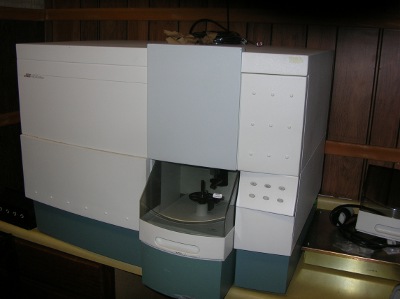 Facscalibur 4 color laser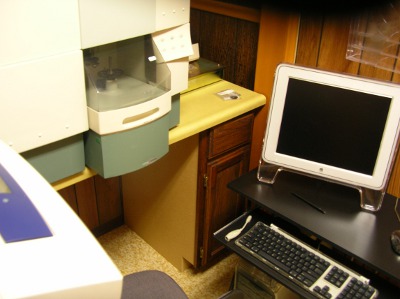 Facscalibur different view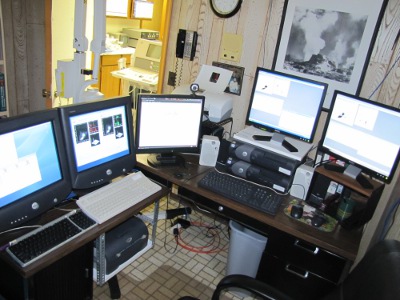 All machines are networked back to a central station.
Below are examples of flow reports showing canine CD4 and CD8 populations.